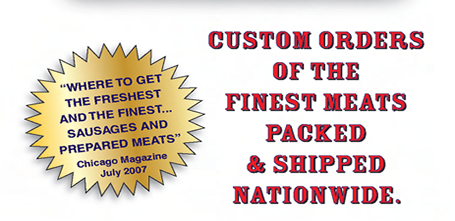 C.P. Meat Market Inc. has been regarded as one of the finest top-grade butcher shops/sausage specialist in the Chicagoland area. Family owned since 1976, the owners Bill Przybylski and Ken Vicich offer the finest porterhouse steaks and thick boneless filets, mouthwatering home-made smoked and fresh polish sausages, hand cranked and specially seasoned bratwurst, beef jerky, stuffed chicken breasts, tender roast, homemade pot pies, smoked barbecued pulled pork and more.
Monday thru Saturday
9:00 a.m. - 6:00 p.m.
Closed Sundays
Store Location:
1312 N. Cedar Rd
New Lenox,
Phone:
(815) 485-3629